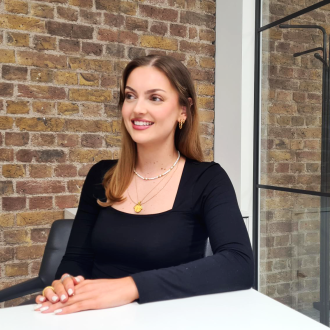 Holly Dawson
Interior Designer
BA (Hons) Interior Architecture and Design
Core skills: Revit, AutoCAD, Photoshop, InDesign, Enscape to produce high-quality 3D visualisations, Illustrator, Sketchup, Hand sketching
Role on your project: Interior designer delivering unique design solutions on a project-by-project basis.
History: After completing a successful year-long internship at TTSP, Holly has since achieved a bachelor's degree at Nottingham Trent University and is now working full-time with the team on a variety of projects in the workplace sector.
Where you can see Holly's work: Throughout London.
Talk to her about: Concept designing, furniture, and finishes.
She's also interested in: Live music, sport, and food.
Off duty: Holly enjoys weekends away traveling around Europe and exploring London, hiking up mountains, and spending time with friends over food and wine.