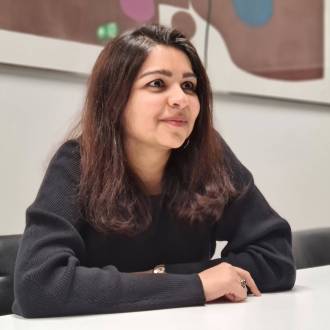 Saher Pirwani Dojki
Architect
Bachelor of Architecture, Karachi, Pakistan, ARB
Core skills: REVIT, Enscape, Navisworks, BIM 360 Document Management, BIM Track, InfraWorks 360, Photoshop, Illustrator, InDesign, Lumion, AutoCAD and Sketch-up.
Role on your project:Architect
History: Born in Pakistan, Saher graduated in 2014 from Indus Valley School of Arts and Architecture, Karachi. In Pakistan, she worked in the commercial and residential sectors. Since moving to the UK in 2017, she has been working on data centre projects across the UK, Europe and Africa.
Where you can see Saher's work: Pakistan, Africa, Europe and the UK.
Talk to her about: Critical regionalism, data centres, adopting a sustainable lifestyle, backpacking, and travelling to remote and difficult places.
She's also interested in: Food (mostly eating, not cooking), trekking, meeting new people, experiencing different cultures/lifestyles and interior design projects.
Off duty: Off duty these days, Saher's life is not AT ALL exciting but she does love planning complicated travel itineraries, even in these thoroughly unexciting times!