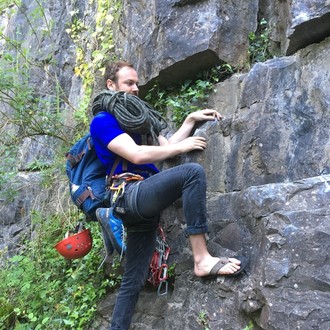 Michael Blewitt
Architect
BA (Hons) Architecture; MArchD Applied Design in Architecture; ARB
Core skills: Revit, BIM Level 2, Planning, Building Regulations, CDM, Interior Design, Project Delivery
His role on your project: Michael has experience leading and working on projects in a range of sectors. His specialist sector is Workplace. He will be responsible for Architectural and Technical Design, drawing on previous experience and lessons learned from his growing portfolio of completed works.
History: Michael graduated from Oxford Brookes University in 2014, after which he moved back to Bristol. Back in his home city he has gained experienced in a range of sectors including Residential, Commercial, Retail, Higher Education and Interior Design. His work includes Housing Developments, Retail Parks, Data Centres, Schools, Offices and University Buildings. He completed his Part 3 in 2017 and has been building upon and developing his job running experience since.
Where you can see his work: All over Bristol and The South West of the UK. Previous clients include, The Met Office, Dyson, Legal & General, Barclays, and UWE.
Talk to him about: BIM Level 2, Office Refurbishment, BCO. He is also keen to talk about motorcycles and climbing.
He's also interested in: BIM, Modular Housing, Developing, Co-housing and affordable housing.
Off duty: Michael enjoys Sport Climbing indoors and outdoors, cycling and motorcycling. He can often be found riding his motorcycle around south wales and in the climbing gym hanging off a wall.